December January News
Hi xxx!
I thought I would do a quick newsletter to wish you a very happy and safe Christmas and New Year.
Can you believe it, already December? Where the year gone?.
I still playing Dorothy in the Wizard of Oz in Brisbane. The show finishes today (it`s the 22nd December) and then it`s home to Sydney for Christmas with my family and dogs I can`t wait!.
What am I doing next year?
There might be a bit of a surprise in the New Year, but you will all have to wait to see what I am going to be up to.
Don`t forget to visit my website over Christmas www.nikkiwebster.com.au. There`s a great new message board that a lot of my fans have been on. It`s been really popular so were decided to make it a permanent thing! It`s a great way to chat with other people and make new friends, but remember not to give your personal details out on the internet.
Thank you
I would like to thank Robert and Jenny and their family for all the hard work they have done on the web site - they do a fantastic job. Also thanks to Tim and Chano, who do a lot of work on the site. It`s great to have such good friends. And I can`t forget Graham and my wonderful fan club. It great to see fans who have travelled such long distances in Australia to see me at Wizard of Oz, and at in store performances. You really are the best.
I`d also like to thank all the parents of my younger fans for all their help too. It was great to meet so many of you at the in store performances and I do appreciate you bringing your children along, or helping them write to me.
Music
My new single 24/7 Crazy about your Smile and my new album BLISS have both been doing well and I know a lot of you are hoping to get them for Christmas, because lots of you have written to tell me! Don`t forget once you`ve heard them to vote on the web for your favourite song! Thanks to everyone for your support through the year for my music, - I really hope you like the BLISS album, the videos, and the singles too!
How can I get a Nikki badge?
Members of the Online Fan Club who came along to a Westfield in store performance were given a free badge. Ie been asked how other fans who don`t
have the internet, or who aren`t in the Online fan Club can get a badge.
We do have a few badges left, so if you don`t already have one and you write to me (snail mail) at
PO Box S311
Homebush South NSW 2140
before January 30th 2003 and can tell me what`s on the inside cover of Bliss you`ll be sent one. Please don`t forget to send a stamped self-addressed envelope.
My wish list
I wish you and all your family a wonderful Christmas and New year. I hope all your own wishes come true. I wish for a peaceful, happy, and safe world for 2003.
To some of my special friends that are in hospital - I am thinking of you and hope that you have an especially great Christmas and New Year. Keep writing and I will see you in the New Year.
Always,
Nikki
Getting ready for the last Wizard of Oz shows here in Brisbane, so I`d clicking the heels of my red shoes three times, there`s no place like Home, There`s no place like Home, There`s no place like Home,o:p>

Dear Nikki Fans

It's truly fantastic news that Nikki's new single Something More
Beautiful has entered the Australian charts this week at # 13 (and an incredible
# 8 in Western Australia)!

Thanks to every one of you who went out and bought the single, hope
you're bopping to it right now.

If you haven't got your copy of the single yet, make sure you do so
soon as there are limited copies available which come with a free calendar
featuring Nikki and some cute puppies...woof

VERY Important message: Re-validating your account
This e-mail also serves as a reminder to EVERYONE to re-register their
details in order to stay in touch with nikki.com.au. Those who do not
do so will be removed from the mailing list pretty soon and will miss out on
Nikki news and goodies - if you haven't already re-registered, please do so
NOW (it only takes a minute).
Click here to get started. http://www.nikki.com.au/sign_up.php?mail=t.
You will need to type in all fields (except mobile phone numbers, which is 
optional).


Radio - Why no Nikki?

The sad news is - many radio stations are refusing to play Something
More Beautiful despite its high chart position. If your local radio station
isn't playing Nikki, then give them a phone call or send them an e-mail
asking them why?

Here are a list of radio station contacts:

NATIONAL RADIO
Hot30.com Countdown
Phone: 1800 151 100
Website:  http://www.hot30.com

NSW
2DAY FM
Phone: 9375 1000
SMS: 0413 104 104
Website:  http://www.2dayfm.com.au

NOVA969
Phone: 133 969
Rabbit's Nova19's -  rabbit@nova969.com.au

MIX106.5FM
Phone: 02 9611 1065

The Edge 96.1FM
Phone: 02 9611 1961

2RDJ 88.1 FM (Sydney Inner West)
Saturday 10pm - 12mn (DJ Jason)
Phone (02) 9744 - 0881
Fax (02) 9744 1088
Email:  theearlybirdshow@hotmail.com

VICTORIA
NOVA 100
Phone: 132410
SMS: 0419999100

Fox FM
Phone:1300 361 019
SMS : 0401111019

Mix101.1
Fax only : 94201234
Website:  http://www.mix101.com.au

Seafm Warragul
Phone: (03) 5622 2943 (day request)
Seafm: 1300 369 099 (QLD nightly countdown)
Internet:  http://www.gippsland.seafm.com.au

3GG- Warragul
Phone: (03) 5622 2444
Nitemix phone: 1300 360 864

Star Network- Albury
Phone: 13 12 16

3TR- Traralgon (Ace radio network nitemix)
Phone: (03) 5174 0000
Email:  hot30@aceradio.com.au

QLD
B105 FM
Ph: (07) 3223 0055
Email:  b105@b105.com.au
Website:  http://www.b105.com.au
SMS: 0405 105 105

97.3 FM
Ph: (07) 3223 0973

SEA FM Fat30
Ph: 1300 369 099
E-mail: bigkahuna@fat30.com
Website: http://www.seafm.com.au

GOLD FM Nite Mix
Ph: 1300 360 864
Email:  requests@nitemixonline.com
Website: http://www.nightmixonline.com

HOT FM Hot30
Ph: 13 12 16
Email:  workdayrequests@hotfm.com.au

RIVER 94.9 - THE HIT MUSIC STATION
Ph: (07) 3813 1949
email: tr20@river949.com.au
Website:  http://www.river949.com.au
SMS: 0405 949 949

SOUTH AUSTRALIA
SA FM
Phone: 08 8211 1600
E mail:  programming@safm.com.au

WESTERN AUSTRALIA
96fm
Phone: 08 9484 1196
Requests:  promotions@96fm.com.au

TASMANIA
HO FM Hobart
Phone: (03) 6234 1017

7TTT (Hobart)
Ph: (03) 6231 2666
internet:  http://www.ttt.com.au

NATIONAL TV

Channel V - What You Want
Phone: 1902 220 330
Fax: 02 9200 1222
Email:  whatuwant@channelv.com.au
SMS: 0428 111 199

MTV
Phone: 1900 959 333
Email:  mtvmostwanted@optus.com.au

The Big Arvo
Website:  www.bigarvo.com.au


Thanks and Strawberry Kisses,

Nikki.com.au





July / August News from Nikki

Hi ***,

I know its been a little while since I've written, because I've been really busy - even more than usual ! with Wizard of Oz in Melbourne, and with publicity work for my new single.

It's called Something More Beautiful, and it will be in shops in Australia this Monday, 29th July, 2002.

The CD features the Something More Beautiful video clip too!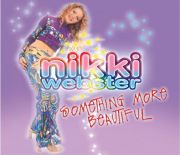 And do you know what? If you're one of the first to get a copy there's a bonus calendar poster too - featuring some great new friends of mine, and they are SO CUTE. I have to say that I really loved doing the photo shoot for the poster. Just wait till you see it!
You might have seen the video for Something More Beautiful on TV, if not be sure to request it if you are in Australia, (Click Here for a couple of ideas on who to contact for requests). If you like to hear Something More Beautiful played a lot on radio, then you might like to request it. For a list of radio stations click here.


So, what have I been up to? I've been busy playing the role of Dorothy in the Wizard of Oz in Melbourne. After a couple of weeks of rehearsals, we opened on 27th June 2002, and we've got lots more shows to play yet - I'm looking forward to seeing everyone there too.
And while I'm talking about Wizard of Oz, I can tell you that we are set to open in Brisbane, Queensland on Thursday 21st November, 2002. It'll be nice to see some sunshine and feel some warm air, after spending a chilly winter here in Melbourne!
If you regularly get my newsletter, you'll know I always answer a couple of questions, so here goes:
Q. Can I chat to you on MSN, messenger or online chat?
A. NO, I don't have MSN chat, or any sort of chat. I have never had MSN, or messenger, or ICQ chat.

A few people have written or emailed lately saying things like "it was good to talk to you Nikki on chat the other day". Everyone should know that I DO NOT use chat, no matter what the person you are talking to says.
Please be careful when you use the internet, and NEVER give out personal information like your name, or your address, or your telephone number to anyone.
Q. What's your new album called, and when will it be coming out?
.
A. The album still doesn't have a name, and I can't give you an actual release date, but I can say it will be out a bit later this year. We (at my record company) do have a couple of names in mind though, so we are thinking about it. As soon as I have some news about the name of the album I can let you know!
If this is the first newsletter you've got from me I'd like to explain that because of my busy schedule I can't answer the hundreds of fan mail I get weekly by writing to everyone individually. That's why I write a newsletter!



From Nikki in Melbourne

April  May  2002  News from Nikki

Hi ***!

Thanks to everyone who sent me birthday wishes.
I had a great surprise birthday party with my extended family in London!

First of all, I really have to say a big SORRY to everyone that's been waiting 
a while for a letter. Thanks for your patience. The first few months of this 
year have just gone so fast I can't believe it. In February I finished Wizard 
of Oz in Sydney, during March I caught up with some school work, caught up with 
my friends, and then headed into the recording studio to record songs for my 
second album, to be released in Australia later this year. And no - it doesn't 
have a title yet!

As you probably know from the web site I've been in Europe and London during 
April and May. I have had such a wonderful time and it was great to be able to 
take my music to so many different countries. I even managed to catch up with 
some of my fans over there.

I have lots of photos taken in Europe, so look on the web site soon and you can 
see my journey. I've just got home and seen my piles of mail and I can see that 
I already have some fans from overseas who've written to me.

If you are from Europe, or if you haven't written to me before, then this will 
be the first newsletter you've got from me. I would like to explain that 
because of my busy schedule I can't answer the hundreds of fan mail I get 
weekly by writing to everyone individually. That's why I write a newsletter.

So what am I up to next?  Australians know I'll be off soon to Melbourne to 
play the role of Dorothy in the Wizard of Oz.  I'm hoping to see a lot of my 
Victorian fans at the show. It is really great to hear that so many of you will 
be coming to the show, especially as some of you are traveling four to six 
hours to get there. I'm sure you will love the show - it really is so much fun. 
 It's such a shame that my new European fans won't get to see it.

I'll also be filming a video clip soon for the new single from the second 
album. I am really excited about my new album -  It's has been great fun again 
to choose songs, record them, and generally do all the things that go into an 
album.

Robert and Jenny from the web site are coming along to the filming of the video 
and they will take some photos to let you see what's goes on a video shoot. If 
there are other things you are interested in finding out about, write to me or 
email me at fanmail@nikkiwebster.com.au  and we'll see what we can do.

That's enough news from me as I really need to get this letter out.

As usual, I'll answer some of the questions I get asked the most. So here goes:-

Q.Can I see you at the show in Melbourne?
Of course you'll see me on stage. But it's impossible to meet all my fans 
individually, as I have hundreds of
letters asking this.

Q. Are you still at school and do you still have school friends?
Yes, of course I still go to school. I have a great school, and I go to normal 
classes whenever I can.  But
when I'm not at school they send all my work and I have a tutor.  Yes - I have 
some great school friends
that I've been friends with for many years and I'll miss them while I am in 
Melbourne.

Most of you know my web site, www.nikkiwebster.com.au , and I recognize I lot 
of your names from the
e-mails I receive. Make sure you check it out to see the latest news about my 
trip, Wizard of Oz in
Melbourne, and my music. We also put up a new jigsaw game (for download) for 
you to play - Thanks
especially to Chano in Denmark for all the work he put into the game, and to 
everyone else who helped.

From Nikki,
At home (at last!) in Sydney



Subject: Nikki's December News - Happy Christmas!
Hi ***
It's hard to believe that another year is over isn't it? I guess you've
been busy, like I've been, with the end of the school year, and now holidays!!School holidays always make me think of fun - summer and swimming andthe beach.The days I spent not so long ago filming the video clip for The
Best Days - were great fun, getting to sing and dance with my friends, sand
board, and jet ski with my brother too, just like we do on family holidays.
This is a good time to stop and think about how lucky we are here in
Australia to be able to enjoy Christmas and the New Year and spend time with
our family and friends. I'm having just a quiet Christmas with my family,
but I'm excited at the thought of presents - I love surprises, so I haven't
wished for anything this year, I'll have to wait and see! I don't peek, or
try to guess hat just spoils the fun.
I've got so many Christmas cards this year - thank you to everyone who
sent one. My Christmas wish is the same as many people are hoping for this
year - peace on Earth, a little joy in the world, and family and friends
around me. I hope that whatever you've wished for comes true too.
This is only a short email, cuz I'm off to The Wizard of Oz again soon,
and then I'll get ready for one of those special things about Christmas -
singing some Christmas carols!
I usually answer some questions, but this month almost everyone seems to
have asked the same thing!:
Are you going away for the holidays?
This year I'll have Christmas with my family, and then spend my time
working hard in Wizard Of Oz to make sure lots of people get to see a
little of the magic of a big stage production. On my days off, I hope to
get in a little swimming, and just relax a bit.
Have a great Christmas and New Year, and a safe and happy holiday,
Follow your Heart
Always
Nikki.
Backstage at "Wizard Of Oz" in Sydney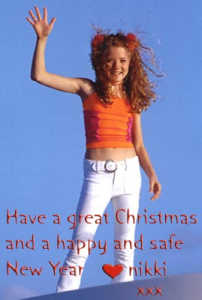 Novermber News from Nikki
Hi ***
This last month has certainly flown by. I'm full time now in Wizard of Oz,
so as you can imagine I'm very busy. With schoolwork (tutoring) and
rehearsals it doesn't leave much time for anything else. But I'm having a
really great time. It's really fun working with Doug, Kane, Phillip, Bert,
Pamela and all the other cast, including the munchkins.
Opening night of the Wizard Of Oz in Sydney is tomorrow!! November 29th,
and there have been preview performances from the 24th. I'm really looking
forward to seeing everyone at the shows.
I know a lot of you will be seeing "Wizard" - thanks for your support-
and if I don't get time to say hello personally, then I'll know you're there
and I'll be thinking of you.

My new video clip The Best Days has been shown on Video hits and Rage
and I know a lot of you have seen it. It was great fun to make and I really
hope you like it. The single will be out on the 3rd December in Australia
and will have two music tracks, The Best Days, and a version of the song
Over The Rainbow from Wizard of Oz.
There will also be the video clips from Strawberry Kisses and Depend on Me
on The Best Days CD. Don't forget to buy it early as the first shipment of
CD's have some great Christmas stickers, which I thought would be nice
for you to send to your friends for Christmas. I've attached a picture to this
email so you can see what they're like. There are four different stickers on the sheet.

I've also heard this week that my album 'Follow Your Heart' has gone Platinum,
so I'm really thrilled and grateful to everyone who's grabbed a copy. Thank you!

As usual, I will answer some of the Questions I get asked the most.
So here goes:-
Q. Can I meet you at the Wizard of Oz?
Of course you will see me on stage, but I don't really know if
I'll be able to meet you in person. Because I'm 14 years old there are lots of
laws about how much time I can spend each day "at work" and how much time
I have to spend resting. When I'm doing two shows a day I probably won't get
to meet anyone as there is only a bit over an hour between shows, so I'll
need to have a rest and something to eat and drink. Also after late shows
I'll need to get home (more rules!!). But be sure you keep writing and
telling me when you are going to be there and I'll give you a big wave from
the stage.

Q. Can you sign my CD ?
Yes, of course I will ! Just send the cover (not the CD) with a
stamped self addressed envelope to the postal address below, and I'll sign
it and send it back.

Q. Am I going to school in Brisbane next year ??
No. When Wizard goes to Brisbane, I'll have a personal tutor for
my school work.

Most of you know my web site,
www.nikkiwebster.com.au
, and I recognise
I lot of your names from the e-mails I receive. We'll be updating the site
soon with some new 'Best Days' stuff and news, so make sure you take a
look!. Some other things to watch out for - Big Hit magazine, Smash Hits,
Who magazine
Follow your Heart Always
Nikki. At home in Sydney


Postal Address: PO Box S311
Homebush South 2140

If you're getting this Newsletter for the first time I'd like to explain
a little. I get heaps of letters each week and to answer all of these with
individual letters would be impossible,so each month I write a newsletter
for all my fans.